Liver regeneration and fibrosis after inflammation
Inflammation and Regeneration
2016
36:19
Received: 3 August 2016
Accepted: 5 August 2016
Published: 18 October 2016
Abstract
The liver is a unique organ with an extraordinary capacity to regenerate upon various injuries. In acute and transient liver injury by insults such as chemical hepatotoxins, the liver in rodents returns to the original architecture by proliferation and remodeling of the remaining cells within a week. In contrast, chronic liver inflammation due to various etiologies, e.g., virus infection and metabolic and immune disorders, results in liver fibrosis, often leading to cirrhosis and carcinogenesis. In both acute and chronic inflammation, a variety of immune and non-immune cells in the liver is involved in the processes resulting in either regeneration or fibrosis. In addition, chronic hepatitis often accompanies proliferation of atypical biliary cells, also known as liver progenitor cells or oval cells. Although the origin of liver progenitor cells and its contribution to hepatic repair is still under intense debate, recent studies have revealed a regulatory role for immune cells in progenitor proliferation and differentiation. In this review, we summarize recent studies on liver regeneration and fibrosis in the viewpoint of inflammation.
Keywords
FibrosisHepatic stellate cellLiver sinusoidal endothelial cellLiver progenitor cell
Background
The liver is a central organ for homeostasis and carries out a wide variety of functions, including metabolism, glycogen storage, drug detoxification, production of various serum proteins, and bile secretion. Most of those liver functions are carried out by hepatocytes, the liver parenchymal cells, which account for approximately 60 % of total liver cells and 80 % of the total liver volume. Hepatocytes are highly polarized epithelial cells and form cords (Fig.
1
). Their basolateral surfaces face the sinusoid, a unique form of capillary in the liver, which consists of fenestrated liver sinusoidal endothelial cells (LSECs) and hepatic stellate cells (HSCs). Tight junctions formed between hepatocytes create a canaliculus surrounded by the apical membrane of neighboring hepatocytes. Bile secreted from hepatocytes is exported sequentially through the bile canaliculi, intrahepatic bile ducts, extrahepatic bile ducts, and finally into the duodenum. The bile duct is formed by another type of epithelial cell, biliary epithelial cell (BEC), also known as cholangiocyte. Hepatocyte and BEC are derived from a common progenitor, "hepatoblast," during development [
1
]. In the similar context of liver progenitors, the adult liver also harbors a specialized type of cells which proliferates clonally in vitro and gives rise to hepatocyte and BEC depending on culture conditions [
2
,
3
]. It has been believed that such a tissue stem cell-like progenitor contributes to hepatic repair in a case of emergency, e.g., severe or chronic liver injury. However, whether and where stem cells exist in the adult liver is still under debate.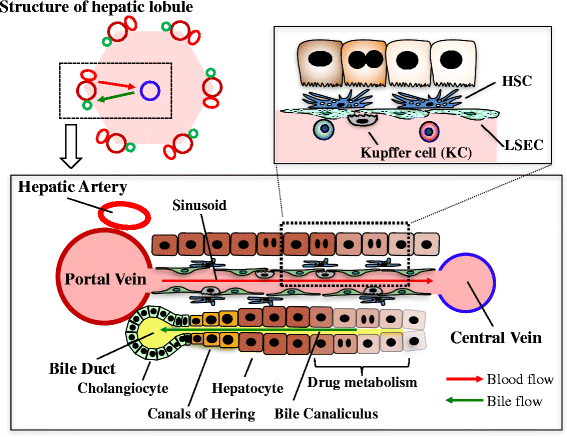 Historically, the regenerative capacity of the liver is well known, and the mechanisms underlying liver regeneration have been investigated for many years. In 1931, Higgins and Anderson developed an experimental model of liver regeneration, i.e., surgical removal of rat median and left lobes that correspond to two thirds of the total liver mass [4]. Since then, the two-thirds partial hepatectomy (PHx) has been used as a standard model for liver regeneration. In this model, the remnant liver lobes enlarge to compensate for the lost mass, which is known as compensatory hyperplasia. After decades of studies on the liver regeneration from two-thirds PHx, it was believed that one or two replications of the remaining hepatocytes should be empirically sufficient to recover the original mass and function. However, revisiting this old theme by using modern techniques revealed that "hypertrophy" of hepatocytes precedes proliferation and that hypertrophy and proliferation contribute almost equally to the recovery of liver mass [5]. While PHx is an excellent model to study the process of compensatory growth of the liver and provides useful information relevant to liver transplantation, it does not faithfully recapitulate repair processes in human pathological conditions of liver diseases caused by virus infection, metabolic and immune disorders, drug intoxication, and so on. Here, we describe the cellular basis of liver regeneration and fibrosis after inflammation in acute and chronic liver injuries.
Conclusions
Liver regeneration is a well coordinated process by hepatocytes and non-parenchymal cells. However, persistent inflammation in chronic hepatitis alters the well-ordered phenotypic changes of non-parenchymal cells and leads to an aberrant healing process, i.e., liver fibrosis. Along the progression of fibrosis, the replacement of the damaged tissue with ECM impairs the functions, flexible structure, and regeneration capacity of the liver. Although the most effective therapy for fibrosis to date is elimination of causative agents in earlier stages, it is insufficient to restore the cirrhotic liver to its original condition in many cases. Liver fibrogenesis is often accompanied by the emergence of LPCs, suggesting that fibrotic environment including activated myofibroblasts and immune cells may serve as a niche for proliferating LPCs. Further investigation of regulatory mechanisms underlying liver fibrosis and the role of LPCs in regeneration will help in developing therapeutic strategies to counter liver disease.
Abbreviations
BEC, biliary epithelial cell; DAMPs, damage-associated molecular patterns; ECM, extracellular matrix; HSC, hepatic stellate cell; LPC, liver progenitor cell; LSEC, liver sinusoidal endothelial cell; MMP, matrix metalloproteinase; TIMP-1, tissue inhibitor of metalloproteinases-1; TWEAK, TNF-related weak inducer of apoptosis
Declarations
Acknowledgements
We thank Cindy Kok for her editorial assistance. This work is supported in part by Grants-in-Aid for Scientific Research by Japanese Society for the Promotion of Science and Japan Agency of Medical Research and Development.
Funding
We have received no specific grants.
Authors' contributions
The authors equally contributed to the preparation of this review. All authors read and approved the final manuscript.
Competing interests
The authors declare that they have no competing interests.
Consent for publication
Not applicable.
Ethics approval and consent to participate
Not applicable.
Open AccessThis article is distributed under the terms of the Creative Commons Attribution 4.0 International License (http://creativecommons.org/licenses/by/4.0/), which permits unrestricted use, distribution, and reproduction in any medium, provided you give appropriate credit to the original author(s) and the source, provide a link to the Creative Commons license, and indicate if changes were made. The Creative Commons Public Domain Dedication waiver (http://creativecommons.org/publicdomain/zero/1.0/) applies to the data made available in this article, unless otherwise stated.
Authors' Affiliations
(1)
Department of Regenerative Medicine, Research Institute, National Center for Global Health and Medicine, Tokyo, Japan
(2)
Institute of Molecular and Cellular Biosciences, The University of Tokyo, Tokyo, Japan