Joint-preserving regenerative therapy for patients with early-stage osteonecrosis of the femoral head
Inflammation and Regeneration
2016
36:4
Received: 15 January 2016
Accepted: 2 April 2016
Published: 25 April 2016
Abstract
Osteonecrosis of the femoral head is an intractable disease often occurring in patients aged 30–40 years that can cause femoral head collapse, pain, and gait disturbance. Background factors, including corticosteroid use, alcohol intake, and idiopathic causes, have been indicated. It is estimated that 70–80 % of osteonecrosis patients experience femoral head collapse, for which total hip arthroplasty is considered the most effective treatment, even in young patients. Thus, there is a crucial need for developing a minimally invasive regenerative therapy as a preventive surgery for femoral head collapse: this has been an important area of research in the past decades. Core decompression, the most popular minimally invasive surgery for osteonecrosis of the femoral head, has been used for a long time; however, it has been insufficient to prevent femoral head collapse. For further improvement in therapeutic efficacy, cell transplantation and the use of artificial bone and growth factors have been proposed in addition to core decompression. Since 2000, newer therapies such as autologous bone marrow cell transplantation and the embedding of metal implant rods have been developed in Europe and the USA; however, these approaches have yet to become a global standard. This practical review summarizes applied state-of-the-art regenerative therapy-based core decompression. We introduce the clinical application of recombinant human fibroblast growth factor (rhFGF)-2-impregnated gelatin hydrogel for patients with precollapse osteonecrosis of the femoral head. Radiography and computed tomography have confirmed bone regeneration inside the femoral heads around the region of rhFGF-2 gelatin hydrogel administration. With further development, the minimally invasive method, which can be expected to promote bone regeneration in necrotic areas, could become a useful early-stage treatment for osteonecrosis of the femoral head. Patients can resume their daily routine soon after surgery, and the procedure is inexpensive. As such, it is a promising regenerative therapy that can be actively employed in osteonecrosis of the femoral head before femoral head collapse.
Keywords
Osteonecrosis
Femoral head
Regenerative therapy
Growth factor
Fibroblast growth factor
Clinical trial
Background
Osteonecrosis of the femoral head (ONFH) is a destructive disease of the hip joint caused by a critical decrease in the vascular supply to the femoral head. Several causative factors have been indicated, including corticosteroid use, alcohol intake, hypercoagulation, bone marrow fat embolisms, elevation of intraosseous pressure in the femoral head, and vascular endothelial dysfunction [1–4]. However, the pathogenesis of ONFH is poorly understood. ONFH often occurs in young adults who are in their 30s, and it occurs bilaterally in approximately half of the cases. Steroid-induced ONFH is commonly encountered by orthopedic surgeons and in other medical departments (such as collagen disease, rheumatology, hematology, nephrology, transplant surgery, respiratory, dermatology, and ophthalmology departments) where steroid pulse therapies are performed. Thus, magnetic resonance imaging (MRI) can be performed for early diagnosis, especially for patients receiving steroid pulse therapy.
Core decompression, which is frequently used in Europe and the USA [2, 3, 5], is a minimally invasive surgery; however, if the necrotic area is large, the effect of core decompression may be limited, and femoral head collapse often occurs regardless. This procedure is almost never performed in Japan, except for biopsy purposes. Other conventional joint-preserving therapies, such as trochanteric rotational osteotomy (the most common hip joint surgery in Japan) and vascularized bone grafts, are difficult, highly invasive, and entail several months of recovery before the patient can resume a daily routine. Considering the age at which ONFH commonly occurs, opting for such operations while the patient is still asymptomatic is difficult. Both the patients and surgeons have difficulty in deciding on a method and the timing of these operations.
Femoral head collapse occurs in 70–80 % of ONFH cases, depending on the size and location [6, 7]. After femoral head collapse, the ONFH site develops secondary osteoarthritis (OA), destroying both the femoral head and the acetabulum [2, 3, 8]. Total hip arthroplasty (THA) is considered an effective treatment for secondary osteoarthritis, even in young patients [3, 7]. As THA is invasive and requires a revision surgery, it is crucial to develop a minimally invasive regenerative therapy that can preserve the femoral head, thus preventing collapse. This has been a research focus for many years [2, 3, 9–11].
Cell therapy [12–16], proteins, and other bone substitutes [9, 17, 18] have been proposed, and various types of cell therapies using autologous marrow cells or stem cells are already being attempted, though they have not yet become standardized. Non-cellular therapeutic strategies using growth factors have also been proposed; however, verification in animal experiments has made little progress, primarily because of the absence of an animal model for femoral head-specific necrosis [9, 19, 20] and secondarily because of the lack of a technique to locally deliver the growth factor [21].
To help address this problem, we reported a new rabbit model in which early ONFH progresses to femoral head collapse and OA, similar to that in humans. While animal models of corticosteroid treatment alone do not develop the characteristics of advanced ONFH seen in humans [22], we applied a rabbit model of ONFH induced by a combination of methylprednisolone administration and vascular occlusion of the capital femoral epiphysis by electrocoagulation. The rabbits started to develop ONFH around 4 weeks after the ONFH procedure and established ONFH within 8 weeks [23]. In this model, we showed that a single local injection of recombinant human fibroblast growth factor (rhFGF)-2-impregnated gelatin hydrogel, which has superior slow-release characteristics, suppresses the progression of femoral head necrosis. To translate this research to humans, the clinical application of controlled release rhFGF-2 for precollapse ONFH patients was performed at the Department of Orthopaedic Surgery in Kyoto University Hospital starting in March 2013 [24]. In this review article, we present the local application of rhFGF-2 in human ONFH and its clinical benefit compared to other treatments.
Treatment strategy for ONFH
Conventional surgical treatment, mainly core decompression, is used widely in Europe and the USA [
2
,
3
,
5
]; in contrast, in Japan, a variety of surgical osteotomy procedures have been performed. However, clinical results vary: the collapse rate of the femoral head was more than 70 % in core decompression with precollapse ONFH in one study [
13
], while others have reported a collapse rate of 50 % with rotational osteotomy [
25
]. A variety of surgical methods have also been reported, including free or vascularized methods with fibular and iliac bone grafts, allogeneic bone grafts, and bone cartilage transplantation (mosaicplasty); bone cement injection to the femoral head has also been reported, although it is not common. Currently, there is no consensus regarding the standard treatment (Fig.
1
).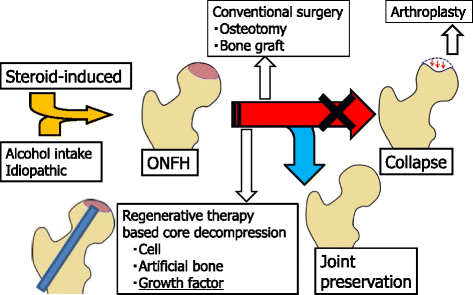 The use of MRI improves early diagnosis, especially in patients receiving steroid pulse therapy. Accordingly, the treatment target has emphasized aggressive early prevention of femoral head collapse. Core decompression alone is challenging [13, 26, 27]; therefore, cell transplantation and artificial bone or metal implants in the core site have also been attempted. In addition, a deliverable, growth factor-containing, bone-promoting substitute has also been proposed [2, 3, 9, 17, 18].
Osteotomy
Over 40 years, various types of osteotomies have been performed for the treatment of ONFH. The concept of surgery consists of moving the necrotic region from the weight-bearing surface of the femoral head. These involve three-axis directions, varus-valgus, flexion-extension, and anterior-posterior rotation. These procedures are technically demanding and are popular in Asia, though less in other regions [3, 28].
Bone grafting
Various surgical techniques have been reported for the use of bone grafts for the treatment of ONFH. In the 1930s, Phemister first reported a surgical procedure of a non-vascularized bone graft from the tibia for the treatment of ONFH [28]. Since then, newer techniques such as the lightbulb and trapdoor non-vascularized bone graft have been used with good results [29]. Another technique for bone grafting is vascularized option. Vascularized fibular graft was introduced in 1979 and consists of a fibular graft together with its vascular supply and harvested directly into the necrotic lesion of the femoral head [28]. Vascularized fibular graft is one of the technically difficult orthopedic surgeries which require technique of microvascular surgery. More recently, the addition of biological reagents has demonstrated positive results [30].
Pure conservative therapy
A recent prospective, double-blind study showed that with conservative therapy using an oral bisphosphonate agent to prevent femoral head collapse, there was no difference in collapse progress between the placebo and treatment groups [31]. In Japan, novel clinical trials as a pure conservative therapy are performed and are registered to the public Japanese clinical trials registry, the University Hospital Medical Information Network (UMIN) Clinical Trials Registry. In recent years, bisphosphonates and parathyroid hormone have also started to be used to prevent collapse (UMIN000017582). In addition, for systemic lupus erythematosus patients undergoing steroid pulse therapy, a three-drug combination of the enzyme 3-hydroxy-3-methylglutaryl coenzyme A reductase inhibitor (pitavastatin), adenosine diphosphate receptor blocking antiplatelet (clopidogrel), and antioxidant (tocopherol) is co-administered (UMIN000008230). Other types of conservative treatment using an external device, such as hyperbaric oxygen therapy and extracorporeal shock wave lithotrity (UMIN000020197), have also been developed [32].
Core decompression
Core decompression is a minimally invasive surgery for ONFH dating back to the 1960s [
28
]. It was originally used to create a single large bone hole >10-mm diameter and had a high femoral head collapse rate. Over time, the method improved and now involves multiple bone holes of a smaller diameter (3 mm); this method has been popular since the 2000s. With the improved method, collapse rates are now 30 % for precollapse ONFH [
33
]. To further improve therapeutic efficacy to prevent femoral head collapse, cell transplantation, artificial bone, and growth factors have been used (Fig.
2
).

Regenerative therapy-based core decompression
Conclusions
The most recent regenerative therapy for ONFH has aimed to induce bone regeneration to prevent femoral head collapse. To develop the practical clinical application for regenerative ONFH therapies, suitable sources, including cell sources, artificial materials, specific proteins, or combinations thereof, must be identified. With the use of various regenerative therapies, including cell therapy, implants, and recombinant growth factors, the treatment for ONFH will reach a turning point in the near future.
Consent for publication
This study was performed in accordance with the declaration of Helsinki. The entire treatment protocol was approved by the Ethics Committee of Kyoto University Graduate School and Faculty of Medicine. Written informed consent was obtained from all participants involved in the study. The clinical study reported herein was registered to the public Japanese clinical trials registry (UMIN000009250).
Abbreviations
BMP:

bone morphogenetic protein
MRI:

magnetic resonance imaging
OA:

osteoarthritis
ONFH:

osteonecrosis of the femoral head
rhFGF:

recombinant human fibroblast growth factor
THA:

total hip arthroplasty
Declarations
Acknowledgements
We thank T. Ito-Ihara and R. Aasda for the clinical trial design and management.
Funding
This work was supported in part by grants from The Uehara Memorial Foundation (to HA).
Open AccessThis article is distributed under the terms of the Creative Commons Attribution 4.0 International License (http://creativecommons.org/licenses/by/4.0/), which permits unrestricted use, distribution, and reproduction in any medium, provided you give appropriate credit to the original author(s) and the source, provide a link to the Creative Commons license, and indicate if changes were made.
Authors' Affiliations
(1)
Department of Orthopaedic Surgery, Graduate School of Medicine, Kyoto University, Sakyo-ku, Japan
(2)
Department of Orthopaedic Surgery, Gifu University, Gifu, Japan