Metabolic regulation by secreted phospholipase A2
Inflammation and Regeneration
2016
36:7
Received: 30 December 2015
Accepted: 10 May 2016
Published: 21 May 2016
Abstract
Within the phospholipase A2 (PLA2) superfamily that hydrolyzes phospholipids to yield fatty acids and lysophospholipids, the secreted PLA2 (sPLA2) enzymes comprise the largest family that contains 11 isoforms in mammals. Individual sPLA2s exhibit unique distributions and specific enzymatic properties, suggesting their distinct biological roles. While sPLA2s have long been implicated in inflammation and atherosclerosis, it has become evident that they are involved in diverse biological events through lipid mediator-dependent or mediator-independent processes in a given microenvironment. In recent years, new biological aspects of sPLA2s have been revealed using their transgenic and knockout mouse models in combination with mass spectrometric lipidomics to unveil their target substrates and products in vivo. In this review, we summarize our current knowledge of the roles of sPLA2s in metabolic disorders including obesity, hepatic steatosis, diabetes, insulin resistance, and adipose tissue inflammation.
Keywords
Fatty acid
Lipoprotein
Obesity
Phospholipid
Phospholipase A2
Background
Phospholipase A
2
(PLA
2
) is a group of enzymes that hydrolyze phospholipids to yield fatty acids and lysophospholipids (Fig.
1
). In general, this reaction is best known as the initial, rate-limiting step of arachidonate metabolism leading to the production of bioactive lipid mediators including prostaglandins and leukotrienes. The mammalian genome encodes more than 30 PLA
2
s or related enzymes, among which the secreted phospholipase A
2
(sPLA
2
) family consists of low molecular mass and Ca
2+
-requiring enzymes with a conserved His-Asp catalytic dyad and includes 11 isoforms (IB, IIA, IIC, IID, IIE, IIF, III, V, X, XIIA, and XIIB) [
1
–
5
]. Beyond cytosolic PLA
2
(cPLA
2
α; group IVA PLA
2
) whose regulatory roles in arachidonate metabolism have been well documented [
6
], the biological roles of sPLA
2
s remained a mystery for more than two decades. Recent studies using mice that have been gene manipulated for sPLA
2
s have begun to reveal their distinct and unique roles in various biological events [
7
–
14
]. The current understanding of the in vivo functions of sPLA
2
s has been summarized in several reviews [
1
–
5
].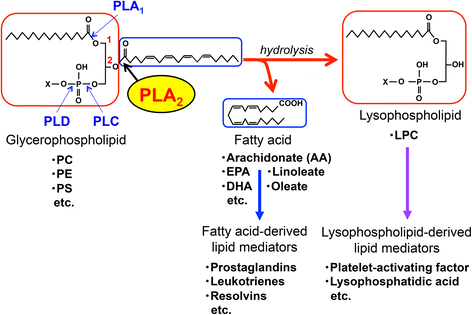 Historically, sPLA2s have long been implicated in inflammation and atherosclerosis. This idea stems from the observations that sPLA2-IIA, a prototypic "inflammatory sPLA2," is induced during inflammation [15] and that hydrolysis of low-density lipoprotein (LDL) by sPLA2s gives rise to pro-atherogenic LDL, which promotes macrophage foam cell formation in vitro [16, 17]. Indeed, subsequent genetic and pharmacological approaches support the pro-inflammatory or atherosclerotic roles of sPLA2s [10–14]. However, the regulatory roles of sPLA2s in metabolic disorders including obesity and insulin resistance have not yet been fully elucidated. Recently, it has become clear that several sPLA2s are expressed in the adipose tissue or gastrointestinal (GI) tract and have variable influences on systemic metabolic states [18–20]. Here, we will make an overview of the novel biological roles of sPLA2s and the lipid pathways underlying metabolic regulation, as revealed by sophisticated knockout and lipidomics techniques.
Conclusions
It is now obvious that at least four sPLA2s are involved in metabolic regulation through distinct mechanisms, as summarized below. sPLA2-V is induced in hypertrophic adipocytes by obesity-associated ER stress and hydrolyzes PC in hyperlipidemic LDL to facilitate the skewing of macrophages from M1 to M2 subsets, thereby conferring protection from adipose tissue inflammation, insulin resistance, obesity, hepatic steatosis, and hyperlipidemia. The saturated fatty acids supplied abundantly from adipocytes trigger the M1 polarization of macrophages, which is counterregulated by the sPLA2-V-driven unsaturated fatty acids from LDL. sPLA2-IIE is induced in adipocytes in accordance with adipogenesis and hydrolyzes PE and PS in lipoproteins, eventually promoting fat storage in the adipose tissue and liver. sPLA2-IB, a pancreatic sPLA2 that is secreted into the GI lumen, hydrolyzes dietary and biliary phospholipids to promote lipid digestion and absorption, which is associated with obesity and hepatic insulin resistance. sPLA2-X variably affects metabolism possibly through the production of polyunsaturated fatty acids that modify the LXR signaling in the adipose tissue, through the digestion of the dietary and biliary phospholipids in the gut, or through the generation of prostaglandin E2 that suppresses insulin secretion in the pancreatic islet. In addition, sPLA2-IIA is abundantly expressed in the human and rat adipose tissues in obesity and the pharmacological inhibition of this isoform attenuates the adipose tissue inflammation in rats [18, 52]. It remains possible that other sPLA2 isoforms may also participate in metabolic regulation, and this issue is now under investigation. Together, these studies have brought about a paradigm shift toward a better understanding of the biological roles of this extracellular lipolytic enzyme family as coordinators of metabolism.
Declarations
Acknowledgments
We thank Dr. A. Kumoanogoh (University of Osaka, Japan) for providing an opportunity to write this manuscript.
Funding
This work was supported by a grant-in-aid for scientific research from the Ministry of Education, Science, Culture, Sports and Technology of Japan and AMED-CREST from the Japan Agency for Medical Research and Development.
Open AccessThis article is distributed under the terms of the Creative Commons Attribution 4.0 International License (http://creativecommons.org/licenses/by/4.0/), which permits unrestricted use, distribution, and reproduction in any medium, provided you give appropriate credit to the original author(s) and the source, provide a link to the Creative Commons license, and indicate if changes were made. The Creative Commons Public Domain Dedication waiver (http://creativecommons.org/publicdomain/zero/1.0/) applies to the data made available in this article, unless otherwise stated.
Authors' Affiliations
(1)
Lipid Metabolism Project, The Tokyo Metropolitan Institute of Medical Science, Tokyo, Japan
(2)
AMED-CREST, Japan Agency for Medical Research and Development, Tokyo, Japan